What would your gym or fitness studio be like with all-in-one business management and marketing tools?
Many fitness business owners use different tools for their day-to-day management needs, but they also use separate tools and software to manage scheduling, social media, email marketing, and other tools that make their members happy. This becomes a huge time suck when these tools don't communicate or sync with one another.
If you've been looking for an all-in-one gym management, digital marketing, and mobile solution for your club or studio, our in-depth review of the Mindbody gym management platform provides insights into how this software works and whether it's right for your business.
Why Use Mindbody Gym Management Software
Mindbody offers cloud-based business software and an online marketing suite for small businesses in fitness, spa, salon, wellness, and integrated health. It provides scheduling, automated marketing tools, your own branded mobile app, and many other exciting features to sign up new members and keep them coming back.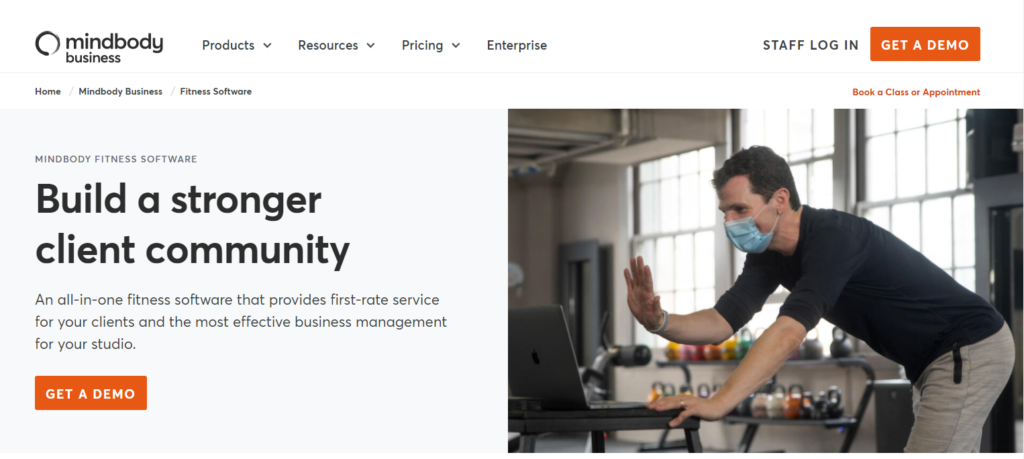 That's crucial to today's gym atmosphere. Before the pandemic, fitness businesses hit record revenue numbers, totaling $96.7 billion in 2019. In fact, 1 in 5 Americans held a gym, fitness club, or studio membership.
After the pandemic, it became more difficult to stay connected to members and even bring in new customers. With its inclusion of business management, marketing, and membership service tools, some fitness business owners pivoted to Mindbody to streamline their business from day-to-day management, while also adding on mobile tools, fitness tracking, and scheduling to help their business stand out.
Mindbody does offer a great suite of tools for businesses that want to grow their online visibility, attract new clients, and start marketing online with a variety of tools. For our purposes, we specifically looked at how the software works for gyms and fitness studios with a comparison to other popular fitness management tools and website builders.
Mindbody Review: What is Mindbody
If you want to bring your fitness business and marketing to a new level, Mindbody offers a bundle of tools that are specifically for gyms and studios.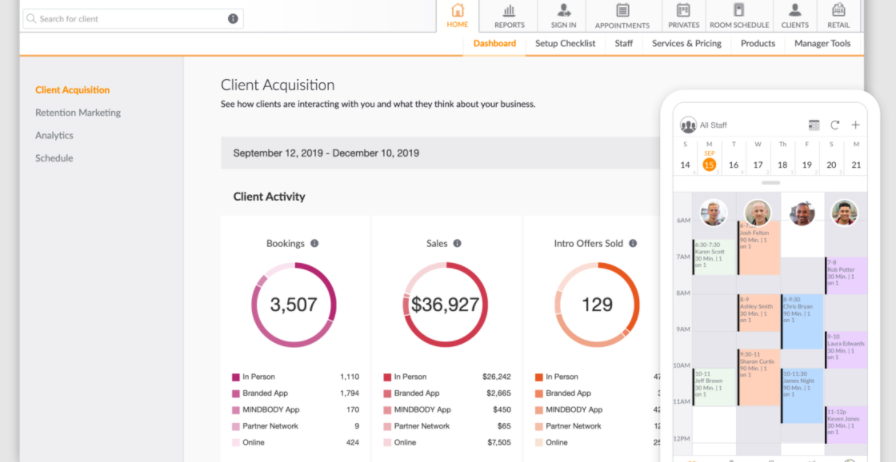 Some of the cloud-based tools included with Mindbody's fitness package are:
Online bookings and scheduling
Point-of-sale & cloud payment software
Google review collection & management
Member promotions
Automated email marketing
In-depth sales reporting
Custom branded mobile app
Fitness tracking and account management for members
Staff and payroll management
Inventory management
Simply put, Mindbody tries to open up every possibility through cloud-based business management, and the company also focuses its tools around gym memberships and studio models.
Once you set up the software with your business, you instantly have the capabilities top schedule classes, book trainer appointments, manage staff, accept mobile payments, offer class mobile check-in, push notifications through a branded mobile app, and much more.
How to Use Mindbody for Fitness Businesses
Building a business around a gym or fitness club almost always starts out with a mission to improve the health and wellness of your members. However, fitness entrepreneurs have realized that it takes more than just fancy gym equipment and a business plan. You need a website, business management software, mobile scheduling and check-in tools, and even your own fitness app to truly launch your brand.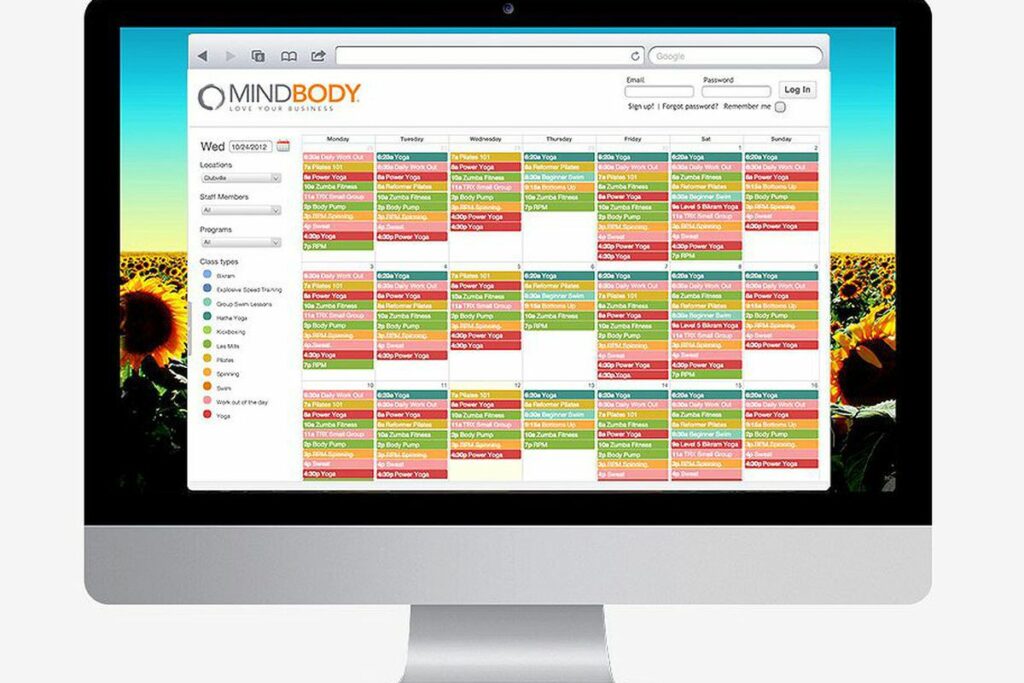 Streamline Your Business Operations and Marketing
This gym management software makes it possible to streamline your fitness business with a variety of tools that all communicate, instead of depending on one tool for each part of your business. However, it's very customizable. Many lifestyle businesses use Mindbody solely for its mobile tools, cloud payments, and automated marketing tools.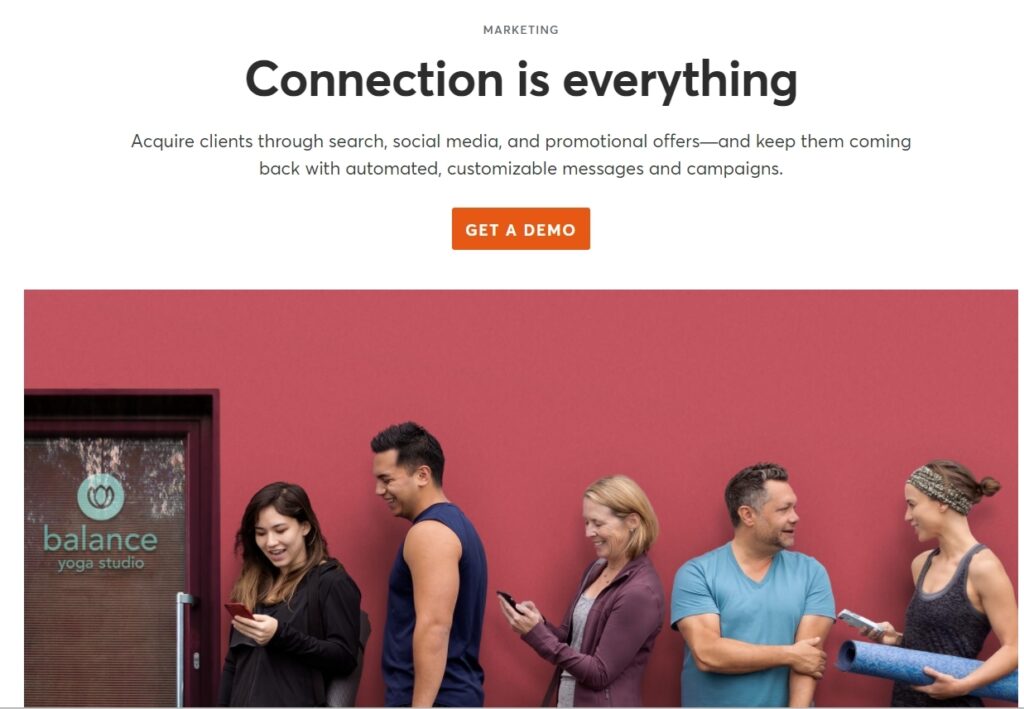 With a marketing suite from Mindbody, it's easy for your marketing team to set up content offers, social media campaigns, and other promotions to bring in new clients. However, you also get account management for members and can send promotions to specific member types to increase loyalty and retention rates.
Mindbody businesses are able to automate, customize, and send out messages to clients, as well as build intuitive marketing campaigns across channels.
Mindbody also makes it possible to list your business within the Mindbody app and Google. There are also ways to add a promo in real time for customers you want to keep happy or introduce to your gym.
Does Mindbody Work for Small Businesses?
Mindbody was made for small, local businesses in the community that need an all-in-one solution. If you're tired of using multiple apps and tools to manage your business, you may find all of these tools are available in one of Mindbody's packages.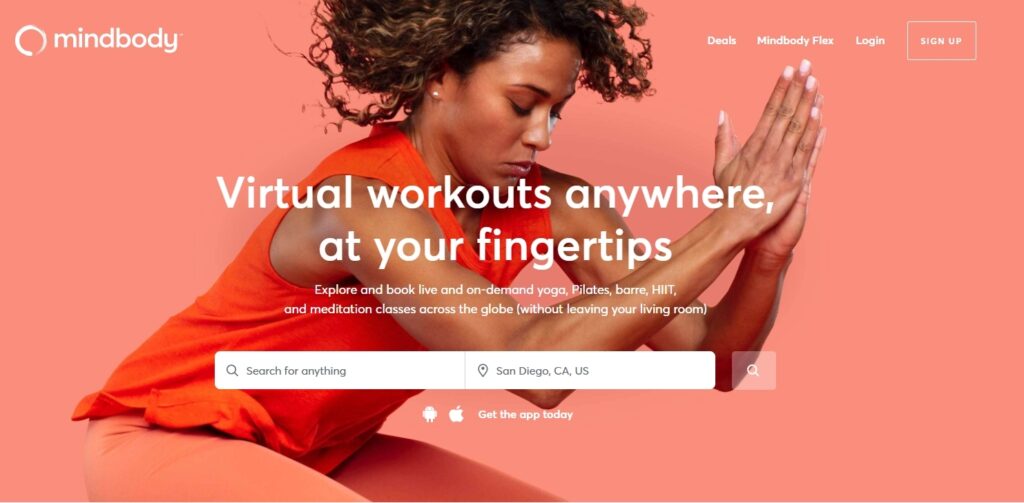 How It Works
If you're a business owner who has different tools and services for managing your business' operations and then another set of tools for managing your website and marketing, Minbody offers a platform that lets you manage your business from one dashboard.
You can also use it to drive more business to your gym or studio just by using its intuitive marketing suite.
All-in-One Gym Management and Marketing
For gyms and other fitness businesses, the software offers an easy way to set up classes and training schedules, as well as manage your entire gym's payroll or set up email marketing campaigns. If you have a higher budget, you can opt for the Ultimate Plus plan, which includes your very own mobile app for your gym or studio.
Mobile Payments & Your Own Gym App
Another way to use Mindbody is for its POS and payment tools. You can connect your inventory to Mindbody and start taking payments directly on mobile. Everything automatically syncs and updates. Customers can make purchases and update their membership through a branded mobile app that you create with Mindboby as well.
Connect Your Business & Marketing
As a cloud-based club management and appointment scheduling tool, Mindbody offers business management and marketing management tools. Once set up with your website and CRM, you can access tools for social media marketing, promotions, new member incentives, and automated email marketing.
Better Lead Generation
However, one of the most powerful features is Mindbody's ability to nurture leads and increase Google reviews for your business. Everyone knows gyms thrive on good reviews. If you have a Google My Business listing, then Mindbody can help you reach out to clients automatically via email or text to leave a review.
With Mindbody, you can use custom API access to enable developers to integrate business platforms together like Wellness 365, Xero, Perkville, RelateLOOP, Incubator, WaiverKing, and more.
What Mindbody Doesn't Do For Fitness Businesses
In our research, we found some business owners who were not happy with the software due to issues with integration, incompatible features, and customer service. There were also complaints that the software isn't as useful and has lost some value for small businesses and start-ups who may not need every marketing tool.
Additionally, Mindbody isn't a website builder or host. Some Mindbody competitors offer more tools to build fitness websites, such as Active Blueprint.
You can only use it with an existing website, though it can integrate through most APIs. Some customers said that this required a developer to configure, which left the software useless unless more investment was made.
We've listed out some of the pros and cons of Mindbody's services.
Pros and Cons of Mindbody Software
Pros
All-in-one business and marketing software to build out your fitness marketing and lead generation
Easy-to-use mobile app and scheduling tool
Gyms can build out classes and offer online sign-ups
POS tools make it simple to keep track of inventory
Lead generation and management tools
Manage your staff and payroll
Monitor online reputation management and Google reviews
Email marketing and text message tools help you stay in contact with members
One-click reporting options to keep up with memberships and sales
Cons
After setup, customers complained there was a lack of customer service support
Customer support can be difficult to reach out of working hours
Tons of functionality, but not always easy to integrate without a developer
Requires time to set up and customize tools, but Mindbody does provide onboarding and setup support
Not easy to cancel if features don't work for your business
How Much is Mindbody
One of the best parts of Mindbody is the flexible pricing. You can run and manage your business with POS and marketing tools for a lower monthly cost with the Starter plan, but if you want access to all features, you'll pay more for Ultimate Plus.
It's very important that businesses pick the right plan that includes the right features. In addition, if using Mindbody for its payment processing, the software's percentage starts at 2.75 percent.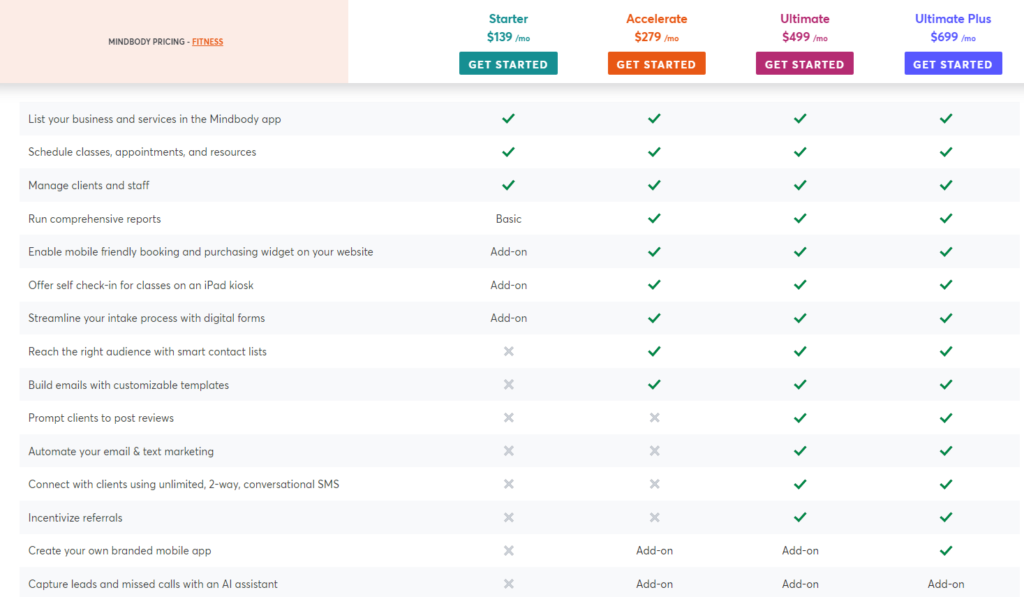 Best Features
Use Mindbody app to manage scheduling, check clients in, take payments and access reports
Online booking and mobile payments
Payment processing
Client management for managing profiles and account notifications
Staff management and payroll with tips and sales commissions
Inventory tracking
Promote your offers on Mindbody's app (add'l fees apply)
Show the right offer to clients with demand-based pricing
After pricing information, we list descriptions of all Mindbody's top business software features for gyms and fitness memberships.
Here is a breakdown of Mindbody pricing and packages for fitness businesses.
Customer support included with all plans and more:
Clients can check in and check-out, paying from anywhere when booking with you
Onboarding, setup and training
Business education resources
Data migration support
Live customer support
Unlimited staff logins
Access on any device
Each plan is built out based on business size and the right service package based on your budget.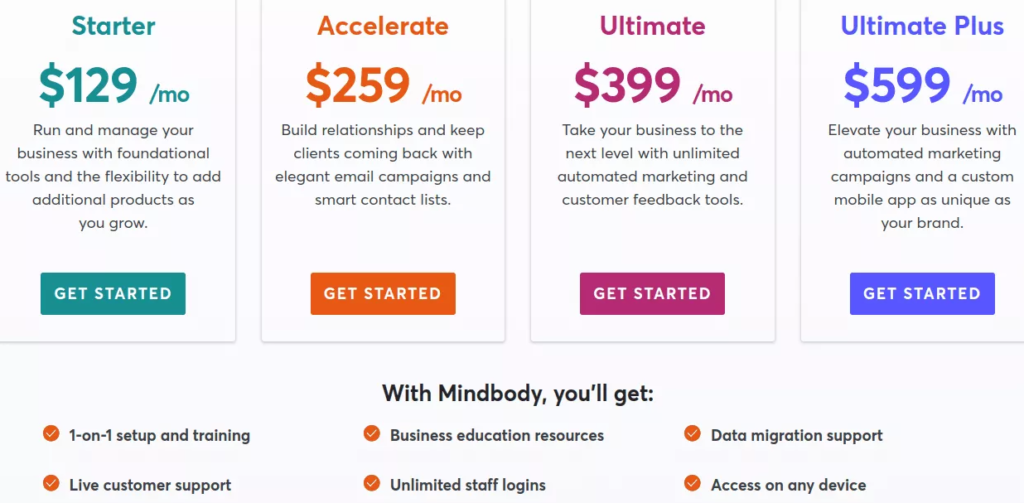 Starter
Cost: $139 per month
With the Starter plan, businesses can list their business and services in the Mindbody app. You'll also be able to set up scheduling for classes, trainer appointments, and other resources.
Businesses are able to manage clients and staff, as well as create reports. However, we noted that only basic reports can be created with starter. You'll need to sign up for Accelerate or better to get more detailed reports for sales.
Other services are all add-ons or unavailable. You won't get self check-in for classes or access mobile-friendly booking tools for your website. These are available in Accelerate or one of the Ultimate plans.
Some features that aren't included in Starter:
Can't use smart contact lists
No email marketing or templates
No prompts to clients to post reviews
No automated marketing tools
Accelerate
Cost: $279 per month
A number of mobile and automated marketing tools are unlocked with the Accelerate plan. This option includes everything in Starter, but you also get more relationship building marketing tools to keep members and clients coming back to the gym with sophisticated email campaigns.
Accelerate also includes lead generation and smart contact list management. Digital forms are included for a quicker intake process, and you can manage all of your members, updating their profiles to add on new services or promotions. For instance, it's easy to create a new member contact list for a "new sign-up promo" or to send product promotions for what's new at the gym.
With some email marketing and templates, you can send elegant emails to your contacts, announcing new fitness classes, personal trainers, new locations, brand new equipment, or other services available.
However, Mindbody does cut you off from automated email marketing and text messaging. If you're looking for more ways to connect to members or even create your own branded mobile app, then you'll want to use an add-on or upgrade to Ultimate Plus.
What's not included with Accelerated:
Prompt clients to post reviews
Email automation and text marketing
SMS and two-way messaging with clients
Incentives and referral programs
Your own branded mobile app (available as add-on)
Access to Mindbody AI assistant for chatting with leads and answering calls
Ultimate
Cost: $499
If you want to automate your email marketing and create lead nurturing programs for your website leads, then Ultimate is probably the best plan for Mindbody.
It includes everything in Accelerate, but you also gain access to prompts for Google reviews, connecting to clients through SMS messaging and text, and incentivized referral programs.
With Ultimate, you have access to almost all features including all detailed reporting, automated marketing tools, online storefront and mobile app purchases, integrated scheduling tools for all fitness business types, and class assistant management.
Features not included with Ultimate:
Creating your own branded mobile app is an add-on
AI assistant available as add-on
No access to family accounts (Coming soon)
Clients can't pick their favorite classes (Coming soon)
Ultimate Plus
Cost: $699 per month
Ultimate Plus offers every feature available with Mindbody, which includes the creation of your own branded mobile app. This is an incredible value, but it's really the only difference between Ultimate and Ultimate Plus.
You'll be able to create your very own mobile app easily with Mindbody's tools, and you'll be able to add it to iOS and Android stores. Members will be able to sign up for classes, view appointments, bookings, and other notifications within your app, too.
FAQs About Mindbody
Does Mindbody offer enterprise software for franchises and owner-operators?
For small businesses, startups, and local service-based businesses like spas, salons, and gyms, Mindbody may be enough with one of their four plans, but if you need more, there are custom enterprise options. Orange Theory Fitness, Restore, Solidcore, and the Lash Lounge are a few businesses that use this enterprise option.
One of the main benefits is that you can set up end-to-end multi-location management systems if you have a franchise. It also comes with more product development features, comprehensive support, and other custom solutions that integrate your CRM and other tools with the Mindbody API.
Does Mindbody help generate new gym memberships?
That's one of the main goals of Mindbody's marketing suite and business management tools. However, you'll get the most marketing tools like email automation and text messaging with the Ultimate or Ultimate Plus plan.
Lead generation, form management, contact list management, CRM integrations, and custom promotions are all available through the marketing suite.
Can you create your own branded mobile app with Mindbody software?
With the Ultimate Plus plan, you'll automatically get a branded mobile app. The company fully develops and brands your own app, but your business will also be listed in the Mindbody app, which comes with its own advantages since it has hundred of thousands of users.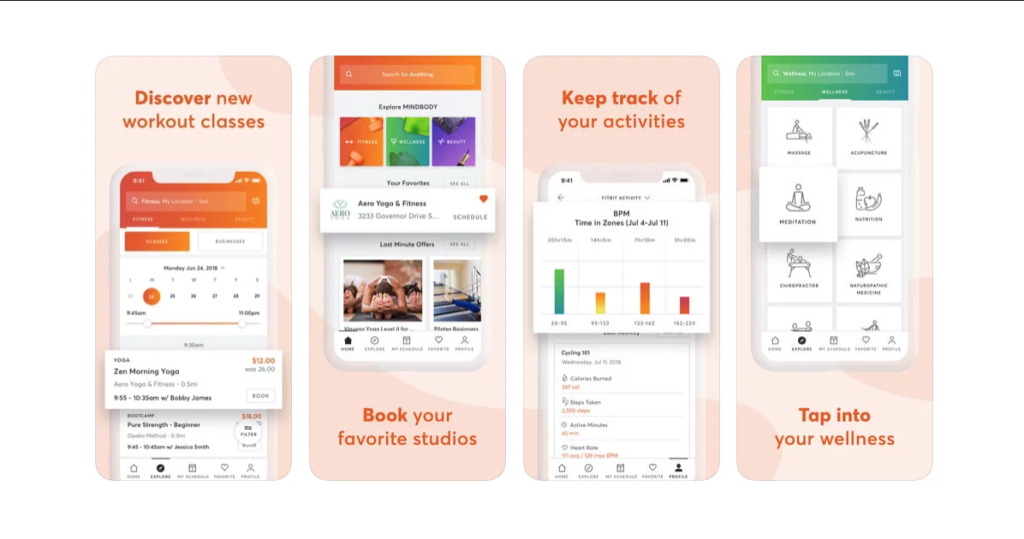 How does Mindbody's virtual assistant work?
Once you set up your AI assistant with Ultimate or Ultimate Plus, your visitors and members can chat with the AI assistant to find out more about your gym, book classes, make payments, or get answers to questions that you set up. This requires some custom setup, but support is included with your plan.
Mindbody Software Features
Mindbody gym management software offers an all-in-one platform to streamline and accelerate the growth of your business. In our review, we found there are a ton of options to customize your Mindbody tools, but not all features are available with the basic plans. However, it's very flexible and easy to integrate your business with its cloud-based tools.
Fitness organizations can personalize their software package based on integrations they need with their website, third-party partners and other developer tools through their sophisticated API as well. To access these features, you may need to work with a Mindbody developer via support or hire one if you need to integrate necessary third-party tools.
Here are some of the features you'll use with Mindbody's platform:
Create Your Own Branded Mobile App Access
One of the coolest features of Mindbody is the ability for any gym, personal trainer, fitness club, or other wellness organization to create their own branded mobile app for the iOS or Android store.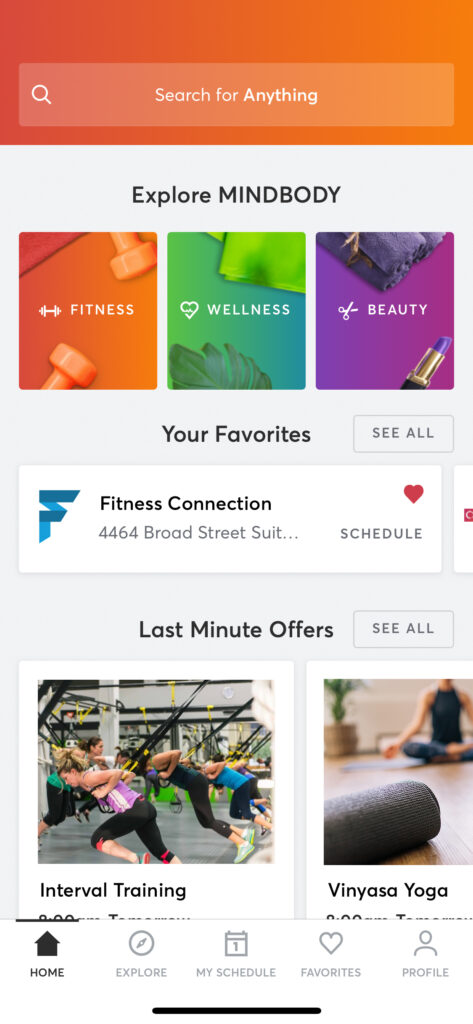 It's easy to improve your sales, interact with clients, provide fitness tracking, and increase your brand's visibility. Mindbody builds your app for you under the Ultimate Plus plan and helps you get it listed in all app stores.
AI Virtual Assistant
The AI virtual assistant is an automated messenger app that provides 24/7 chat and call support. The assistant responds to missed calls, offers promotions, schedules bookings, and answers questions. You'll need to work with Mindbody to set up and automate this AI messenger bot.
FitMetrix Fitness Tracking for Clients
If you want to create leaderboards for fitness or help clients simply track their fitness levels, you can add FitMetrix fitness tracking to your plan. This allows your clients to view heart rate, track calories burned, and even monitor "effort points" on live leaderboards that are all branded for your gym or fitness club.
Accept Payments Anywhere
For gyms and clubs that sell products and services, or if you are a personal trainer accepting payments on the go, Mindbody is an incredibly useful tool. While there is a processing fee that starts at 2.75%, it's very convenient to take payments and access POS tools through your phone or tablet.
Scheduling Clients
One of the basic tools that all fitness software tools should provide is scheduling. This software is known as a leader for scheduling classes, booking appointments, and helping clients keep track of their appointments at your gym. You can manage all of your scheduling for classes, as well as check clients in and out, and it works on mobile. Businesses can also use built-in scheduling tools on their website.
However, this may require additional development and customer support, so it's best to ask about this before you sign any contracts. Some customers have complained that Mindbody doesn't always integrate well with their website, and they weren't able to cancel the contract.
Managing Staff and Payroll
Business management tools are very important for today's gym and fitness club owners. Mindbody's software also offers unlimited management of staff, and you can also set up staff profiles and calculate pay, as well as tips and sales commissions.
You can also export payroll information into ADP, Exact, and Paychex as well. One thing to look out for is that the Starter plan doesn't include as much staff management or permissions as Accelerate or Ultimate.
Create Automated Marketing Programs
In the Accelerate and above plans, business owners can access a marketing suite, which includes automated email marketing, as well as SMS, Google reviews, promotions, and referral offers.
Mindbody really helps its clients with client acquisition through search, social media, and promotional offers. You can customize every message and campaign, as well as manage your smart contact list.
The booking flow with Mindbody works with desktop and mobile, and even with Starter plan, you'll be able to list your gym and services in the Mindbody app. You can also change up deals and offer new promotions in real-time if you want to offer incentives to new members.
Mindbody Reviews & Customer Satisfaction
At first, we were really impressed with Mindbody's reviews and trust scores. A lot of customers have been using this software for over 15 years and really enjoy its marketing tools, as the Mindbody app is well known on iOS or Android.
One thing to be careful of is the sales process and overpromising. Some reviews were quite low because business owners felt they were sold a different package and had to add on several services or hire freelance developers to finish integration.
Even customers who are happy with the service say that they don't use all the tools and could have possibly gone with a cheaper plan.
That's why it's important to check out the services beforehand and ask questions about custom development necessary to set up integrations. For example, if you use a different CRM or CMS platform, you'll want to check that it's compatible with Mindbody without any additional development through their API and integrations page.
Mindbody Alternatives
See how competitors stack up in the fitness business software category.
GloFox
Studio-based fitness centers and class-based clubs can use this innovative gym management software for marketing, sales, member experience, management, and retention. You'll get apps for members and staff, as well as tools to boost your business growth.
GloFox also offers livestream classes, scheduling, events, website integration, check-in, and payments through Stripe. Some add-ons also include SMS messaging, branded mobile app, and some customer support. GloFox doesn't offer 24/7 live support and also has poor reviews around customer support for development problems.
TeamUp
For scheduling only, TeamUp may be a great option for businesses that want to organize their teams and class schedules for a much lower price. With a free, basic plan, you can create 8 sub-calendars and set up scheduling for all of your classes. You can also access more options for a monthly cost starting at $8. This opens up more calendars, data history, daily agenda, password protection, phone consultation, and custom fields for your calendars.
Gymcatch
Gymcatch offers fitness business booking and management systems that integrate with your website and CRM. Instructors can set up calendars and get sign-ups, while automating booking and driving referrals. It works for gyms and studios, offering marketing tools to get more memberships and easily manage your customer records. Best of all, it seamlessly integrates with live-streaming tools for virtual classes. If you want to try it out, Gymcatch offers a free trial.
Perfect Gym
Like Mindbody, Perfect Gym offers an all-in-one gym management system that integrates with your CRM, POS, club management tools, marketing and automation, and self-service options. You can schedule classes, manage clients, and accept payments. However, it doesn't have the same brand power as Mindbody on the mobile app store. Members are able to book classes and participate in competitions through the Perfect Gym app, where you'll list your fitness club.
Verdict: Is Mindbody Software Right For Your Business?
Mindbody may be the right software for your business if you're struggling to capture new memberships and keep up with your current members, but it's mainly used for its mobile app tools and marketing automation suite.
With scheduling, an AI assistant, membership management, and payment processing tool, you can streamline all of your business management and marketing tools in one. It's also the best option for building your own mobile app.